François PEETERS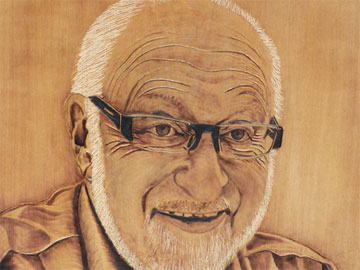 François PEETERS was born in Mortsel, Belgium on May 17, 1941, but he has lived for almost 30 years in Battel, near Malines, Belgium. It was written in the stars that someday he would excel in art, as the painting talent has been in his family for generations, and seems to be handed down to male descendents.

Only a few paintings of his ancestors still exist. Amongst them, two remarquable paintings of his father, Frans PEETERS (1916-1987), painted with common watercolour, and fixed with sugared water, a technique he had developed on his own.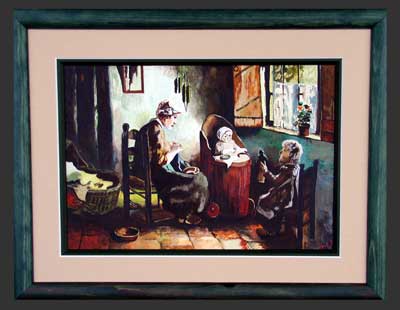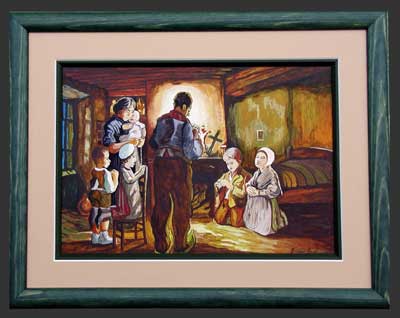 Move the mousepointer over the paintings to see more details

He never had the opportunity to enroll in art education because he started working at a young age to help support his family. His dream: to become a carpenter, which encouraged him to take evening classes in a cabinet making course. Apparently, without realizing it, the pyrography bug was already in his blood.

Just like his father and uncle before him, he started drawing and painting. At the end of the 1960s, he exhibits some of his paintings and acquarels. To see some of his paintings, click <HERE>.
In 1970, rather by coincidence, he met an older pyrographer who was presenting his art to the public at an arts-and-crafts fair. The smell of burnt wood attracted him and his passion for pyrography was born. François Peeters had plenty of experience with wood crafts and has drawing talent. He felt that pyrography was the artistic field where he could feel completely at home as an artist.

François Peeters is still thankful to this unknown pyrographer who taught him the basic principles of the art, and of whom he only has one photograph (see below). He never even knew his name.
In the following years, he perfected himself in all facets of pyrography: he learned how to use markers to obtain special effects, he experimented with all styles of pyrography (among others relief and color).

The last couple of years, he has limited himself to pen drawings and pyrography: heads of children, faces of elderly people, animals, and mushrooms are his favorite subjects, as you can see from his picture album on this site where examples of his work are displayed.

But François Peeters is also an enthusiastic artist outside of pyrography and painting: the back of a washing machine suddenly becomes a mould to pour decorative stones, roof toptiles are covered with a polyester top and transformed into a stunning mailbox, old bottles are blended into a beautiful wall decoration.
However, pyrography remains the most important art in his life: he shows his work at exhibitions and fairs, demonstrates his talent, and answers every question about pyrography.
Pyrography is still a hobby for François Peeters. He enjoys creating his art for his family and friends. But his work is not only sought after in Belgium. Various foreign visitors, who discovered pyrography through a visit to an arts-and-crafts fair, have taken with them as a memory of our country one or other art work to among others Norway, Hungary, Wales, and even further to South Africa and Houston, Texas in the United States. One of the "baby bottle piggy-banks" even made its way to the American actress Linda Hamilton through her fan club!